Lockdown has presented a problem. Whilst challenging films can work a treat in a cinema, at home you are faced with access to mobiles, drink and nibbles, an undercurrent of unease and a desire to escape. Enter the Fallen series. Normally I'd give Gerard Butler a wide berth after 300 – I'll admit to preferring the Richard Egan approach, chiseled jaws and no GGI, although equally wooden.
However, we watched London has Fallen and enjoyed every minute and ended up watching the series as a popcorn night entertainment.
The three films follow an almost identical plotline. Butler is a secret service man dedicated to saving the President who keeps finding himself in the hands of various terrorists. Despite their valiant efforts, the terrorists seem to only fire blanks when Butler is about, and most of the film is a steady meat grinder as the end slowly becomes nigh for the plotters. There is always a mole in the Government who has sold his soul, and and any similarity to Where Eagles Dare is not purely coincidental.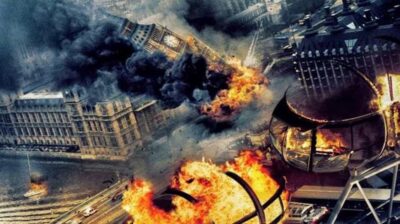 Reviews for the series are universally bad, which is why many film fans avoid them. Yet this is pure cinema, untainted by much thinking, just providing a nonstop experience.
Verdict: Perfect for lockdown